WOMEN HELPING WOMEN!
The Zonta Club of Denver II is proud to support and partner with the following organizations. They provide services that have a positive impact on the lives of individuals and families who are in need. Their employees and volunteers are dedicated to help people enrich their family environment, further their education, and improve their overall quality of life. As a result, the entire community benefits socially and economically. We provide grants, scholarships, in-kind donations and many hours of volunteer work to these organizations.
Click Titles for more info
Contact us or click the links below to see how you can help!
Adopt-A-Teacher
Adopt-A-Teacher
Each year Zonta Denver II gives a grant to a teacher in the Denver Metro area to promote literacy. The teacher may use the grant to buy classroom supplies and books or provide students with experiences that encourage reading.
Center for Work Education and Employment

Founded in 1982, the Center for Work Education and Employment (CWEE) fosters personal and professional transformation for low-income single parent families through confidence building, customized skills training, and career advancement.

Impressions Clothing Boutique
We provide grants, clothing donations and holiday gifts to CWEE. Our members helped remodel the First Impressions Boutique and help maintain it.
Central Visitation Program
Central Visitation Program provides a safe, supervised, and comfortable setting for court ordered visits between children and parents of low income families involved in high conflict divorce, custody and/or restraining proceedings.
Denver II members volunteer at CVP receptions and the art auction. This year we are redoing the visitation room where parents can visit with their children.
Empowerment Program

"The Empowerment Program provides health, housing, employment and education services and advocacy for women living in poverty, who are homeless, living with the effects of trauma, drug addiction and mental illness and HIV infection or AIDS. Empowerment is a licensed drug and mental health treatment program and provides services based on a strengths based, harm reduction and relational-cultural models."
Our club remodeled the Columbine Community Center and hosts a monthly activity there for the residents. We give Empowerment grants, donate clothing, personal items and food to clients. We volunteer for the Chrysalis Program graduations.
Florence Crittenton School

Florence Crittenton School empowers struggling teen families to be productive members of the community and helps them create Cycles of Success!. Using a holistic and proven approach, the agency offers a spectrum of wraparound services for the entire teen family: the Florence Crittenton High School for teen mothers, the Qualistar-rated Early Learning Center and the Family Engagement Center for teen fathers and family members.
In 2009, our major project for the year was creating the Baby Bucks Store. We give the school grant dollars, sponsor graduations, provide school supplies and participate in back to school activities. We raise money and walk in the annual 5K Run/Walk.
We award the Sue Burch Scholarship to a Florence Crittenton graduate who is attending college.
Freedom Service Dogs

Freedom Service Dogs rescues dogs from shelters and trains them to assist people with mobility impairments.
Our members enjoy participating in several graduation ceremonies each year. We also provide grant funding to support the care and training of the dogs.
The Learning Source

Learning Source provides opportunities for adults and families to attain educational goals through literacy, GED, English and workforce development instruction.
Besides giving grant funding, our members volunteer at graduation receptions, tutor GED students, and participate in the annual Spelling Bee.
SafeHouse Denver, Inc.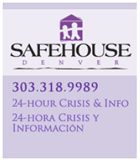 SafeHouse Denver, Inc. assists women, children and youth in reclaiming their right to a life free of domestic violence.
Denver II members volunteer at fundraising events, help with mass mailings, give grant dollars, and adopt a family during the holiday season. We also collect old cell phones to donate to SafeHouse.
Women's Homelessness Initiative
What is the Women's Homelessness Initiative?
WHI is a consortium of churches working through Capitol Hill UM to give sanctuary and hospitality every night to women who would be on our streets. What WHI offers is a chance to have these women – our women – be known, heard and cared for with compassion, dignity, respect and presence of heart.